THOMAS WILLIAMS JUNIOR HIGH
WYNCOTE, PA
Thomas Williams Junior High School was located on Hewitt Road in the Wyncote section of Cheltenham Township, Montgomery County, PA. It saw graduating classes from 1929 through 1969. On December 31,1925, 9 acres of land on Hewett Road in Wyncote were purchased from William and Alice Caveny. On July 14,1928, 10 acres at Ashbourne Road and Front Street were purchased from Mary Haines for $42,500. Stone was cut in the quarry behind the Hewett Road site to build both schools. It was stored on the Ashbourne Road site and work began on the Wyncote site immediately. On September 10,1928, the Thomas Williams Junior High School opened in Wyncote. The new TW Junior High, as it was locally called, remained in use until the Cedarbrook Junior High opened in September 1970. The building and surrounding grounds were given to the Township in exchange for a parcel of ground owned by the Township, which is now the site of the Cedarbrook Middle School. The old Thomas Williams school building was demolished in 1970. It was dedicated Thomas Williams Park in 1971 in honor of the man whose estate was located there. Tennis courts were constructed on the site by the Township in 1974.
Here are some documents (PDF format) from the class of 1965: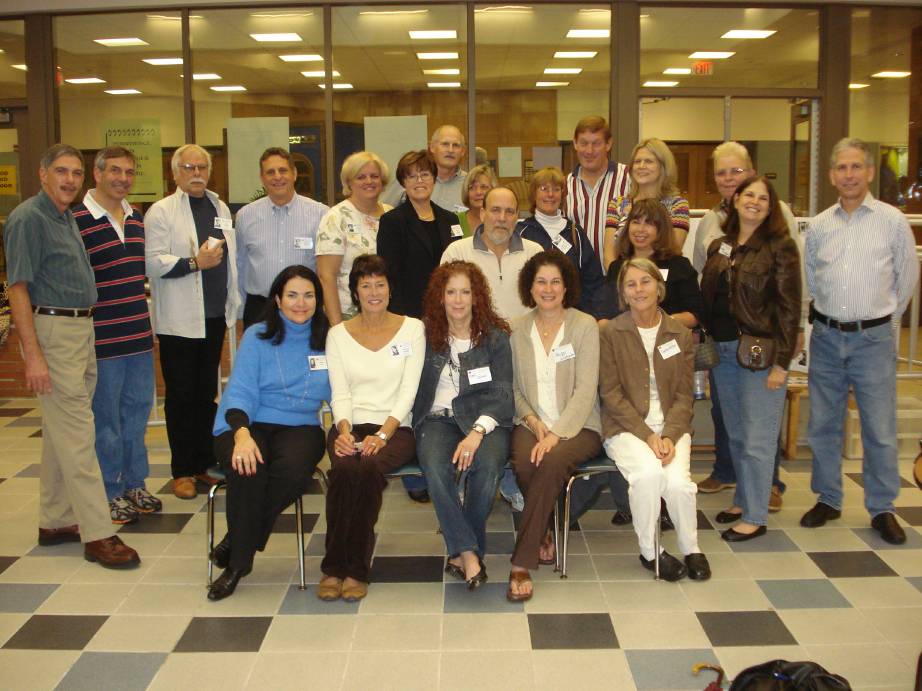 Some of the TW Class of '65' at the second day
of their 40th CHS reunion, Nov 8, 2009 at CHS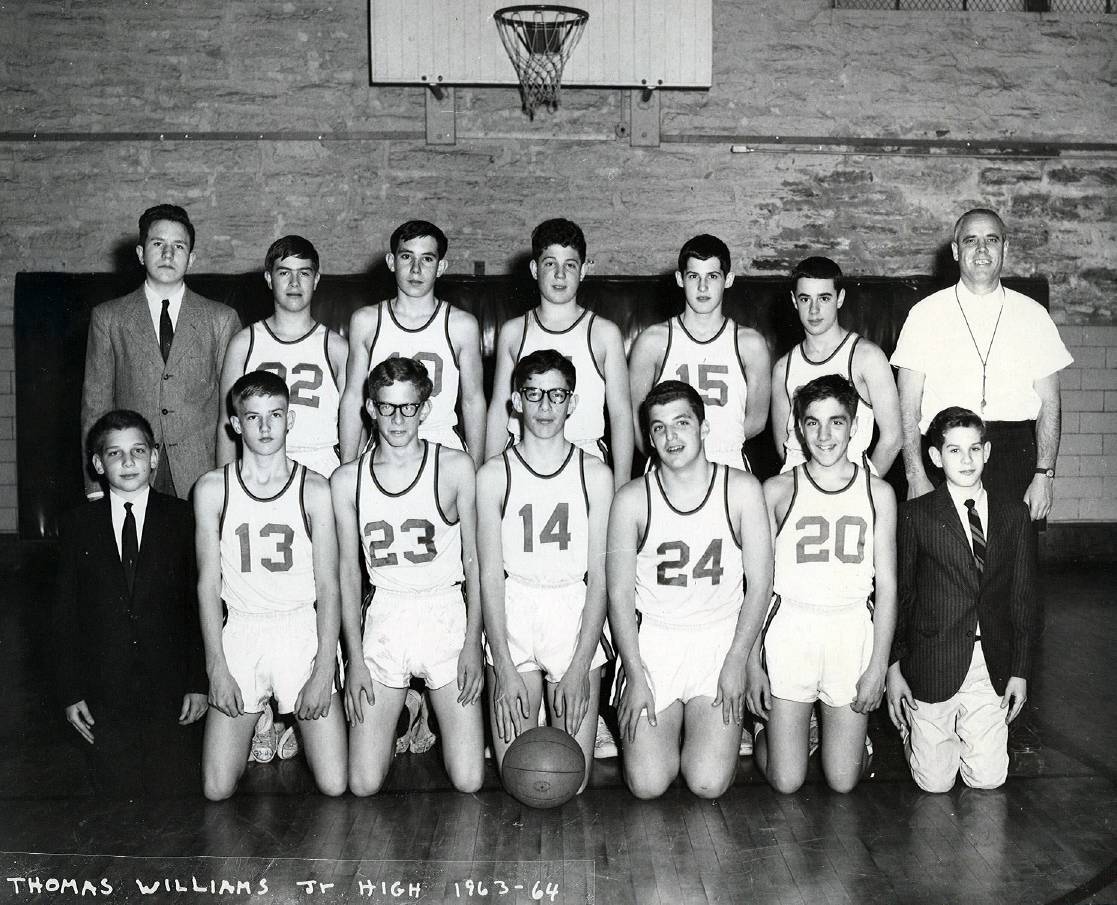 Thomas Williams Basketball Team '63-64'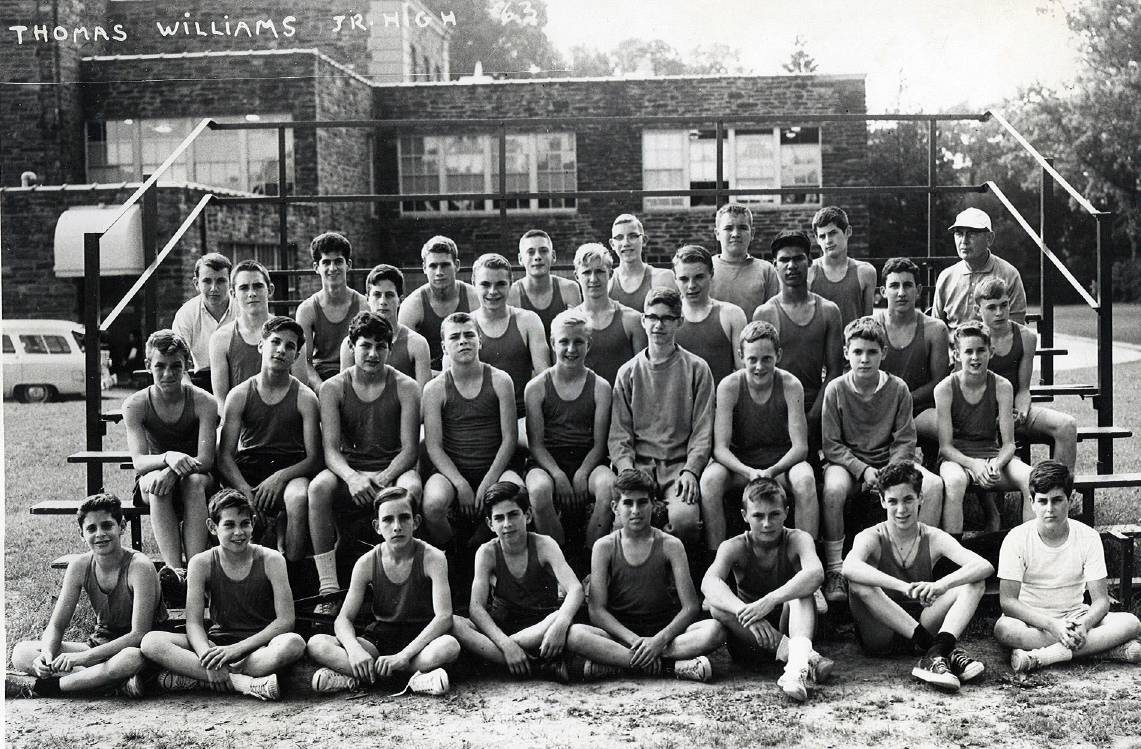 Thomas Williams Track Team, 1963
Coach Frey at upper right with a section of the rear of the school in the background. I believe Mrs. Ulberg's and Miss Micolucci's classrooms. Later a four room annex was built in just about the same area this picture was taken from. Few pictures exist of the actual school. If you have any I would love to have them!
Girls Sports Pictures courtesy of Carolyn Miller Antilla
If anyone has additional documents or photos pertaining to TW, and you would like to donate a copy to this site please email me
Did you attend Thomas Williams Junior High in Wyncote, PA ?? Would you like to attend a reunion in the Philadelphia area which would include the surviving teachers?

Do you Remember Jim O'Reilly the Art teacher at TW? I recently visited with him in his home in Ambler. I had not seen him in over 35 years! He spoke fondly of the old school and he still keeps in touch with many of the former TW teachers. Jim also expressed a desire to organize a reunion.

If you are interested please email me at doug@crompton.com

Looking forward to hearing from you!!

Doug Crompton, TW Class of 1965