GLENSIDE ELEMENTARY SCHOOL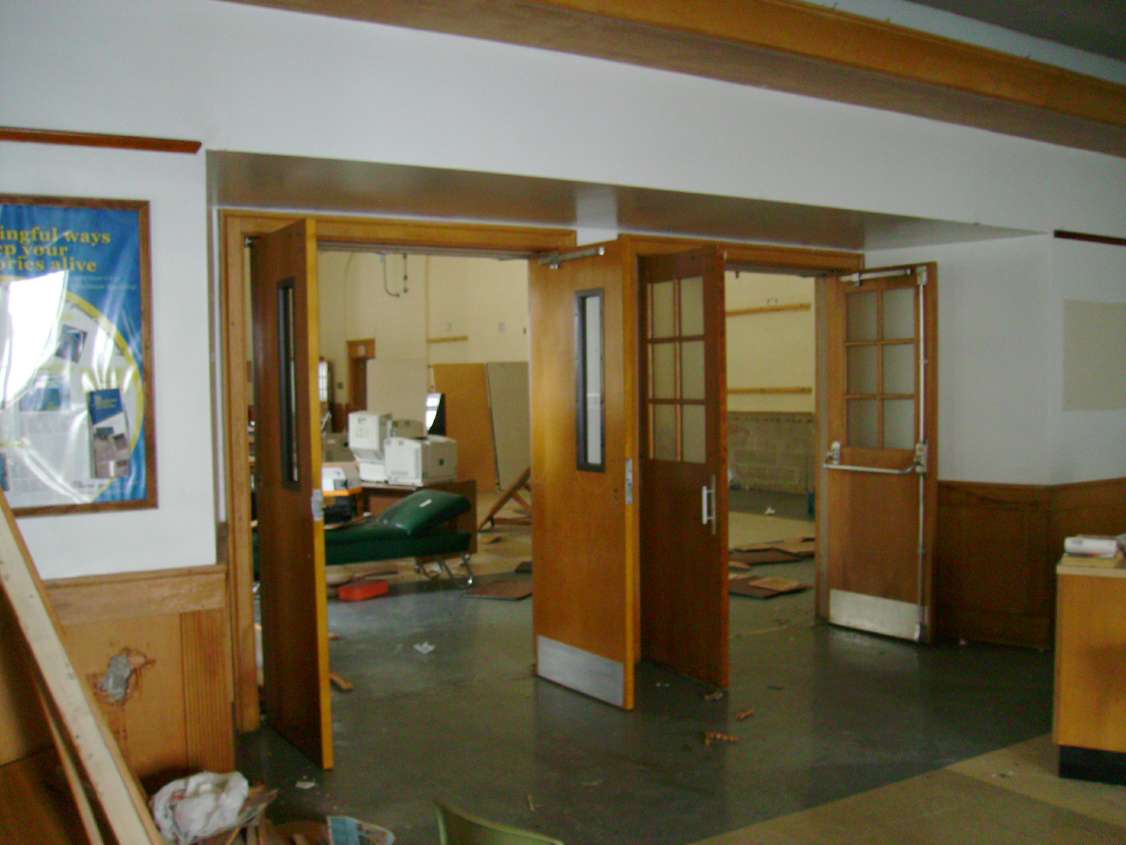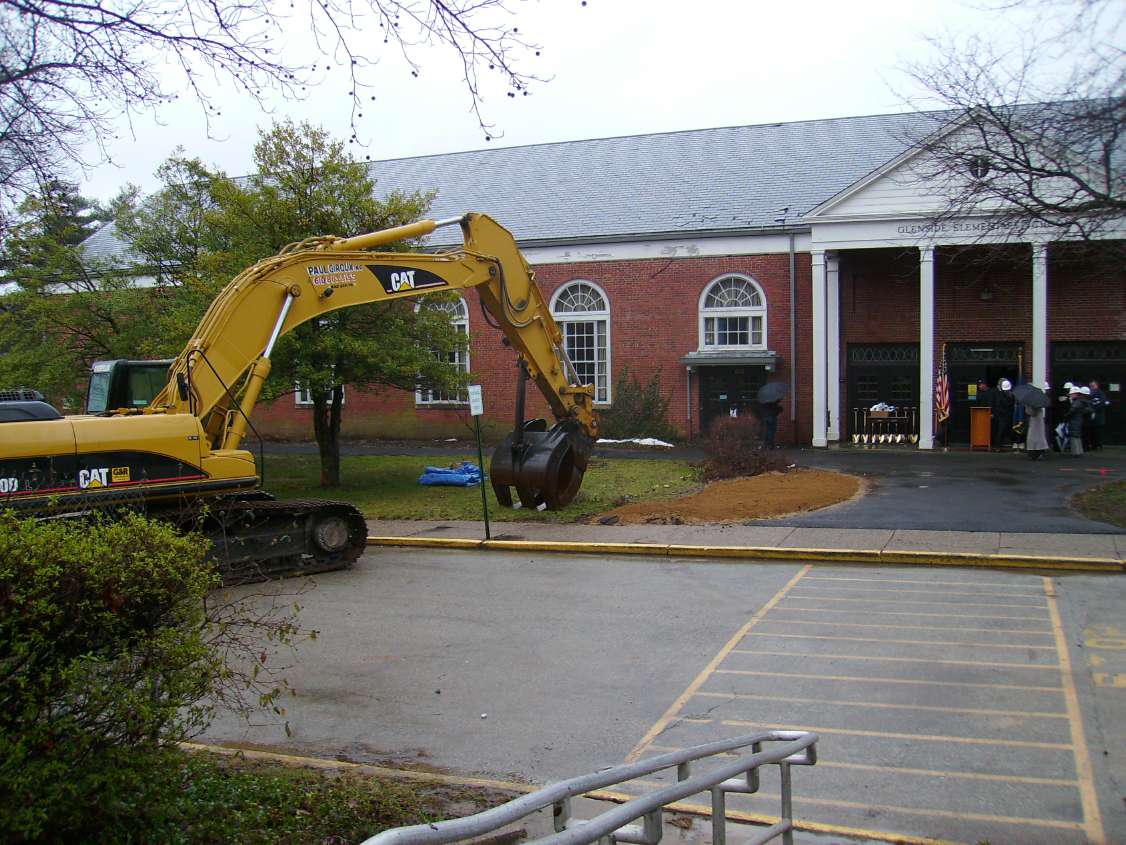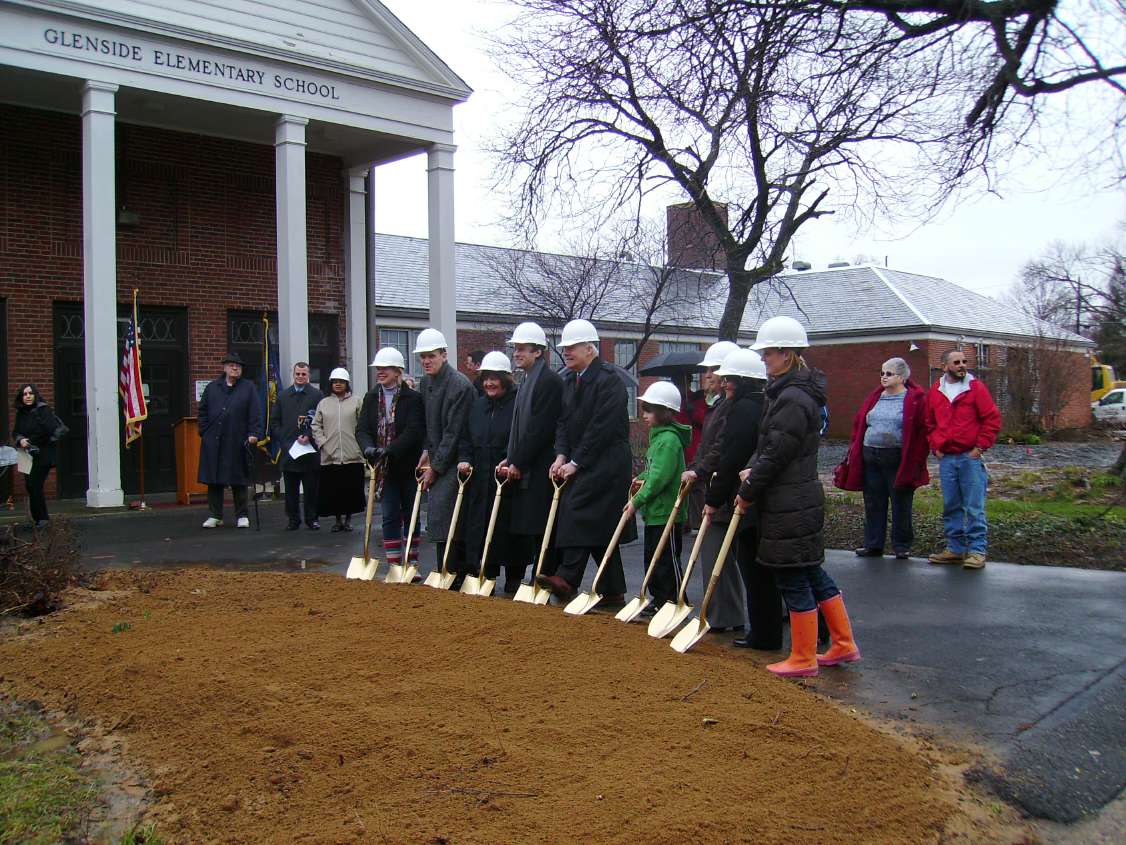 Finally ceremony marking the beginning of demolition at Glenside Elementary School March 15, 2010.
Photos by Barbara Dando.
Click for First week demolition pictures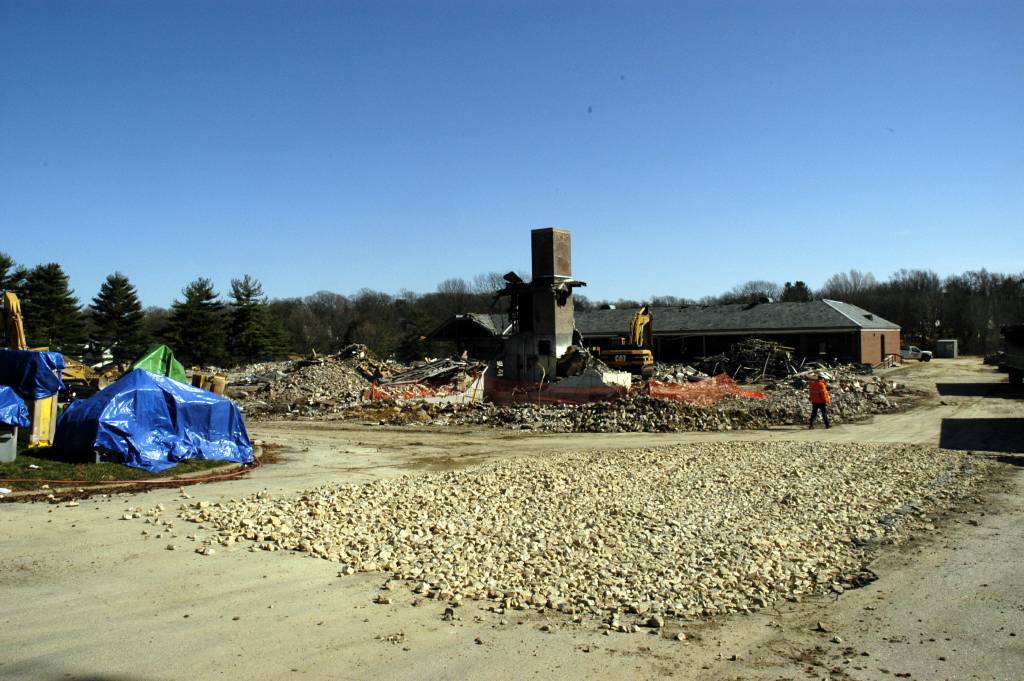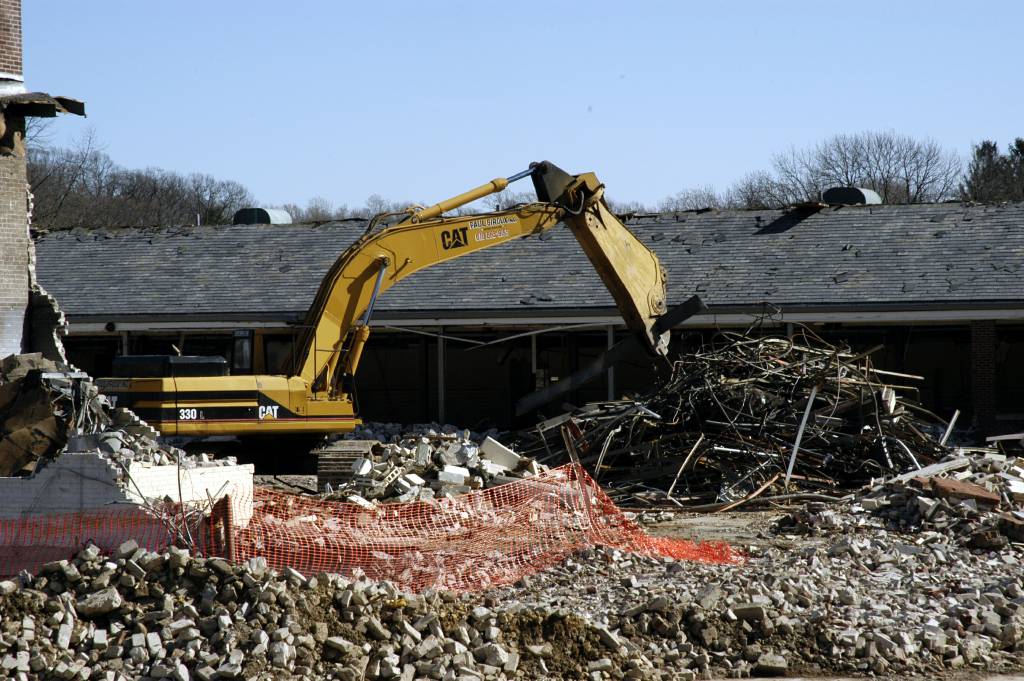 Pictures taken Wednesday, March 24, 2010 just 10 days after the beginning of demolition.
Most of the school is now gone. The chimney was to the right of the main entrance and the auditorium was to the far left in the first picture.
---
Glenside Elementary History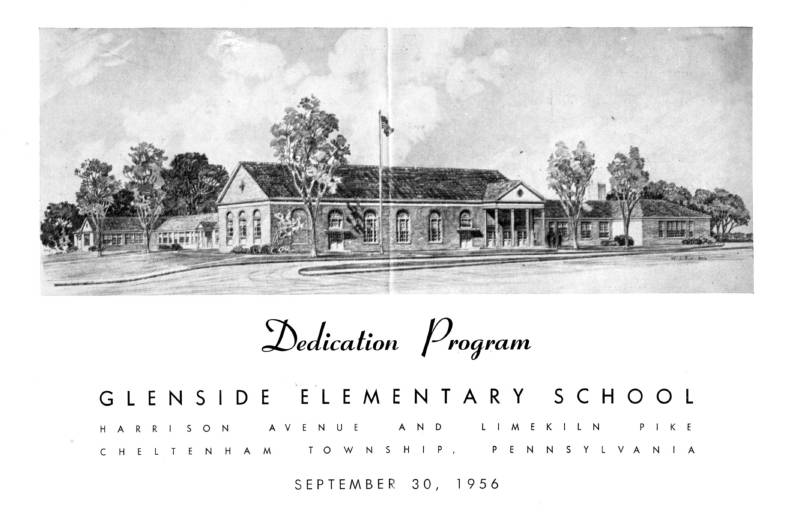 Full Dedication Program (PDF)
| | |
| --- | --- |
| | Glenside Elementary School, located at Harrison Avenue and Limekiln Pike in Glenside, Cheltenham Township, Montgomery County, Pennsylvania was built in 1956 and opened for the 1956/57 school year on September 10, 1956. Some of the CHS 1968 graduating class would have started first grade at Glenside on the opening year and many of those students would also have attended Kindergarten in the old Glenside school which it replaced. Here is an excerpt about the old Glenside School from the History of Cheltenham Schools by Alexander W. Scott, Cheltenham Elementary 1983 : |
It became apparent a new school was needed in the Glenside area. On October 11, 1907, the school district purchased land from George and Eleanor Heist, Jr. This small piece of land, slightly over an acre, was located on Easton Road just north of Springhouse Lane and cost $4,000. Anticipating the opening of the new Glenside School in September 1908, the Audenried School was closed in June. Unfortunately construction problems developed necessitating the children to attend classes in the Glenside Baptist Church at Easton Road and Wesley Avenue until the Glenside School was completed in September a year later. The School Board had previously used the church in September 1906 for 1st and 2nd graders from the overcrowded Edge Hill School.

The new Glenside School opened with a manual training room for boys from Glenside, Edge Hill and Wyncote Schools. The girls from the same schools were given sewing while the boys had their manual training. The other district grammar schools had their own manual training facilities. Edge Hill and Wyncote Schools were to have their own facilities within a few years. In 1912 four classrooms, a large room for teachers or library purposes and a new manual training room was added to the original Glenside building. In 1924 additional land, to expand the play area, was purchased from Clarence and Beulah Shilcock for $9,000.

The school served the community for 48 years before it closed its doors in June 1956. It was briefly used by the Oak Lane Country Day School and eventually demolished to make way for a gas station and today is the site of the Glenside Post office.
Now as evidenced from the statements below from a 2007 report, the "new" Glenside school is now showing its age!
Earlier this year, the heating system failed in Glenside Elementary forcing the closure of the school one day, and a need for constant maintenance and watching of the heating system there. The heating systems at Glenside Elementary, Wyncote Elementary, Cheltenham Elementary and the Elkins Park School are all original and are obsolete, inefficient, and in an extreme state of disrepair. Parts are not available to replace failed components.

In terms of roofing, Glenside Elementary, Wyncote Elementary, Cheltenham Elementary all apparently have failing original roofs. Comments were made at the meeting that parts of the roof at Glenside Elementary have been leaking for nine years
In the late 1960's Cheltenham Township Schools were at their WWII "baby boom" peak. Enrollment was 6870 in 1970. Schools at that time were:
Cheltenham (k-6)
Glenside (k-6)
Lynnewood (k-6)
Myers (k-6)
Rowland (k-6)
Shoemaker (k-6)
Wyncote (k-6)


Elkins Park JHS (7-9)
Ogontz JHS (7-9)
Thomas Williams JHS (7-9)


Cheltenham High School (10-12)
Today things are much different. District Enrollment for the 2005-2006 school year was 4,663 students with the following schools:
Cheltenham Elementary (K-4)
Wyncote Elementary (K-4)
Glenside Elementary (K-4)
Myers Elementary (K-4)


Elkins Park Middle School (5-6)
Cedarbrook Junior High school (7-8)


Cheltenham High School (9-12)
This number may go lower as the total number of students in the District has been projected to drop by 19 percent from 2001/2002 to 2015/2016.
| | |
| --- | --- |
| | The old Glenside Elementary School, opened in September 1908, is now the site of the Glenside Post Office on South Easton Road. A few of the Class of 68 would have attended kindergarten here. I can remember my father bringing me to this school on my first day of kindergarten in September 1955. At sometime during that school year we walked as a class up Harrison Avenue to see the then being constructed NEW Glenside Elementary on Limekiln Pike. We would start first grade there the following year. |
Miss Crusemire, 1st Grade, Glenside Elementary 1957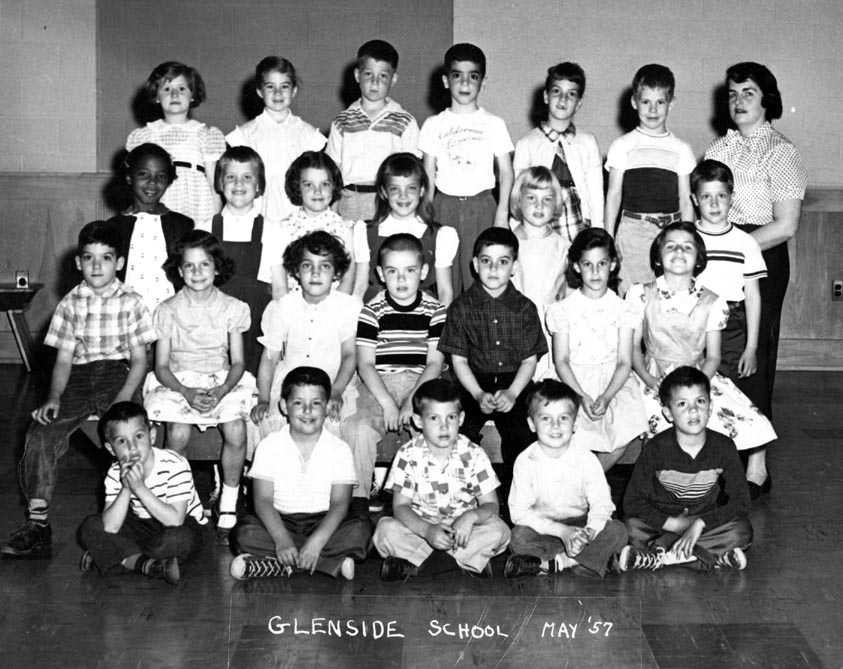 The following are names that come to me. Help me fill in the blanks and correct my errors! Some of these students would have transferred before junior or senior high.
Front row; Michael ?, ?, ?, ?, Bill Gardner; second row; Doug Crompton, Sandy Mullen, Lucille Tarzian, Steve Reiff, Steve Greenfield, Bonnie Soiffer, ?; third row; Brenda ?, Joannie ?, ?, Bonnie Clark, ?, ?; fourth row; ?, ?, Barry Koffler?, Robbie Wineman, ?, ?
My visit with Miss Crusemire May, 2017
The Many Live of Miss Crusemire, the Sunday Bulletin Magazine, January 6, 1963
| | |
| --- | --- |
| | Cover picture from the April 1983 edition of the Cheltenham Township School District Newsletter "The Reporter" showing Miss Crusemire. Below from the centerfold of the same edition are district teachers with 25 or more years of service at the time. I am sure you can pick out many you had or knew. |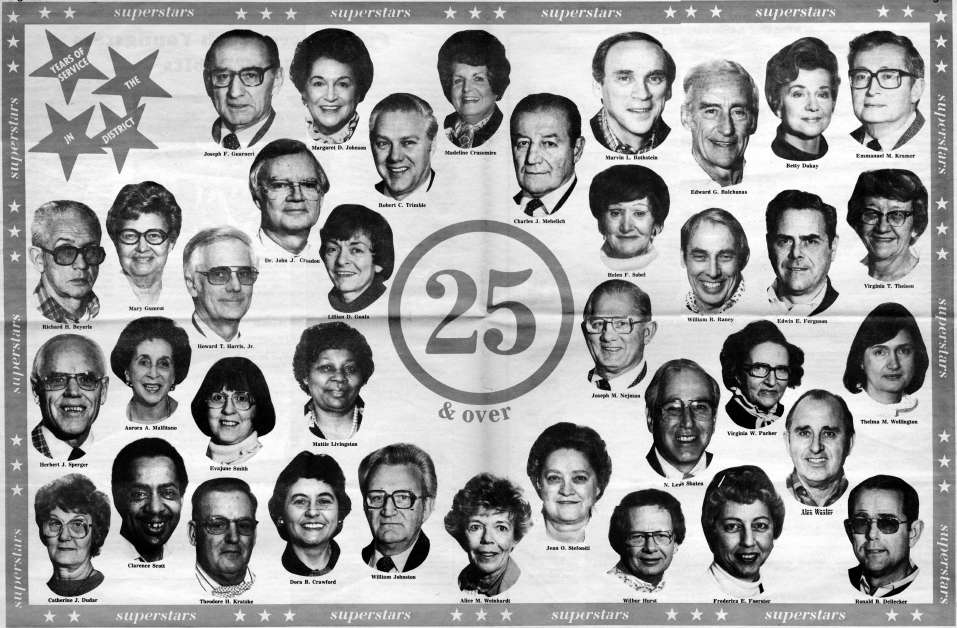 The Glenside Elementary Playground, late 1950's

On the swings
?, Barbara Dando, ?, Brenda ?, Bonnie Clark
Doug Crompton and ? sitting on the playground grass.
"Safety" Dale Fetterman on playground.
Wills sisters on the playground
Suzy Wills
Barb Dando, Andy Reed, Bob Weinman
| | |
| --- | --- |
| Miss Engle third grade Glenside Elementary | Miss Engle wedding |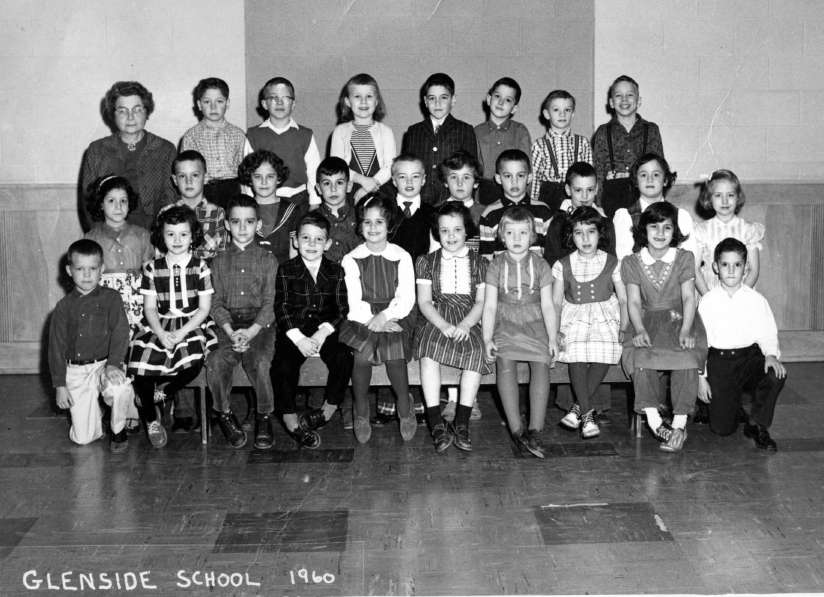 My brothers first or second grade class. He and Warren Harner? are the only ones I can identify. Jeff Crompton, third from left in the front row. Warren is at far left on his knee.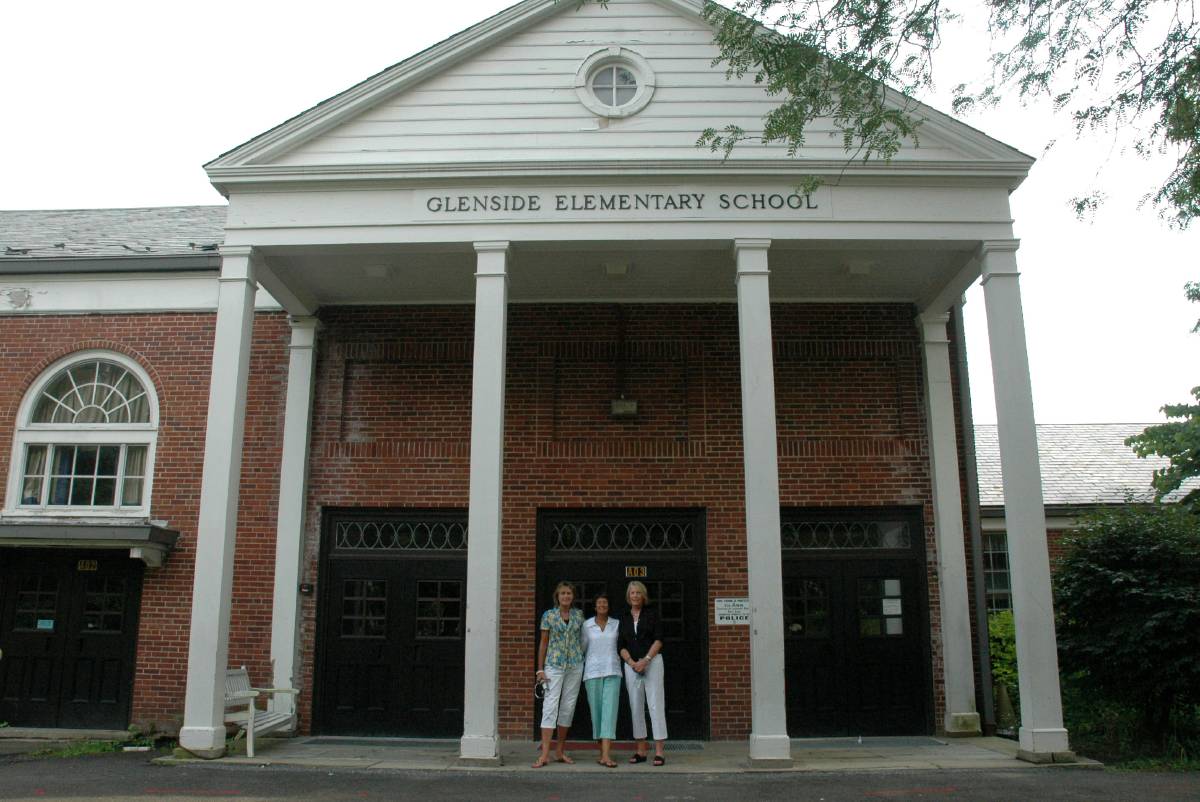 Suzy and Joanie Wills, Barb Dando standing at the front of the old Glenside Elementary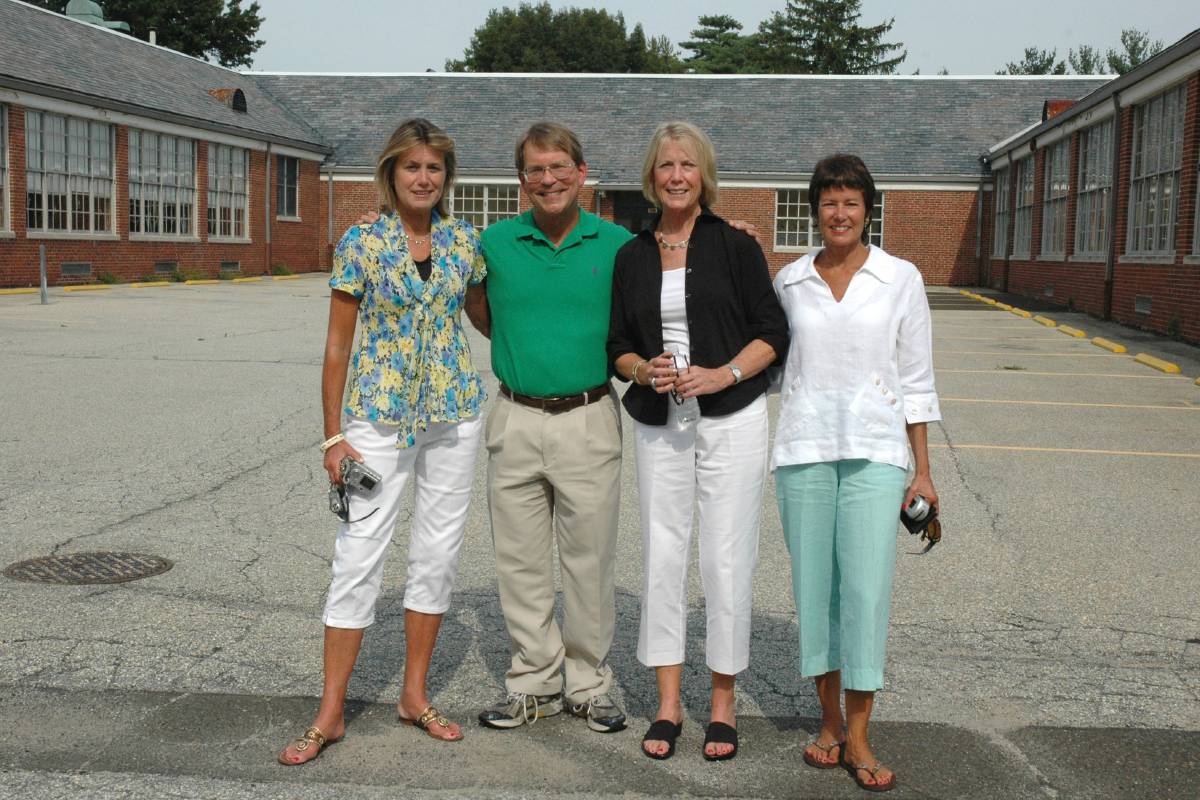 Suzy Wills, Jim Hoxie, Joanie Wills, Barb Dando at the old Glenside Elementary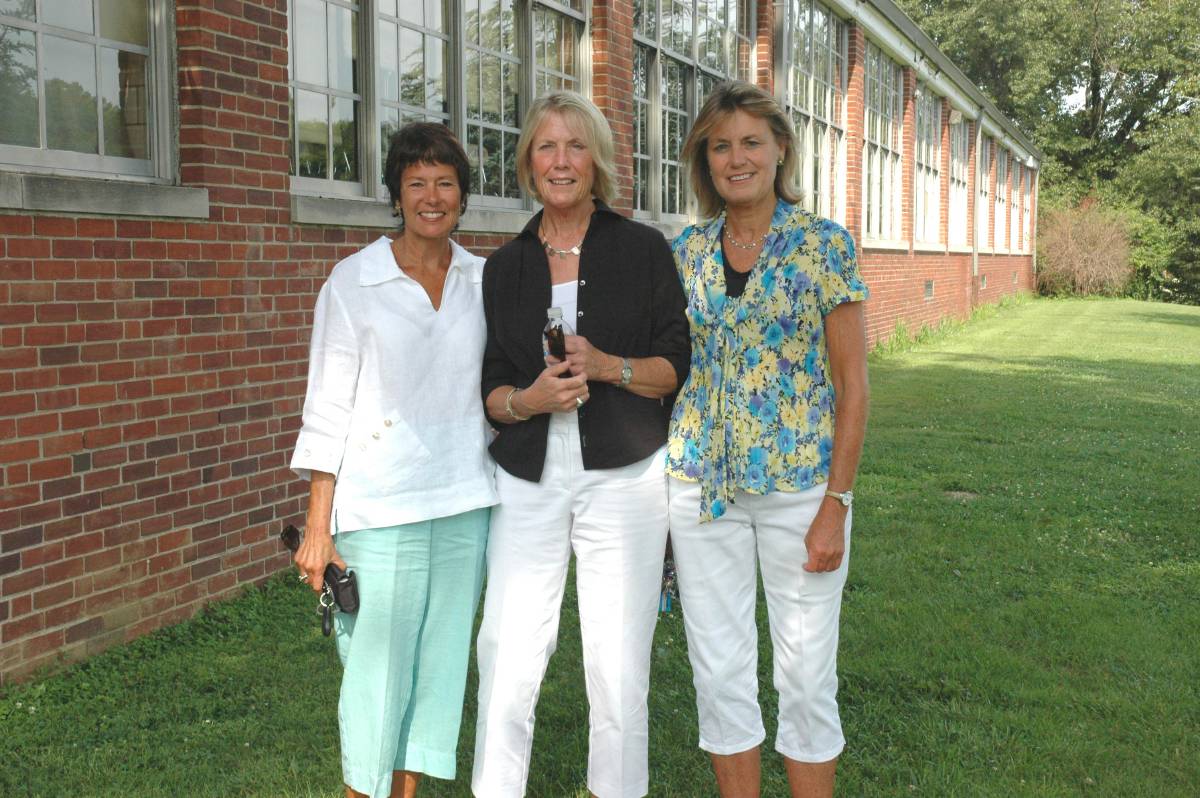 Suzy and Joanie Wills, Bard Dando, old Glenside Elementary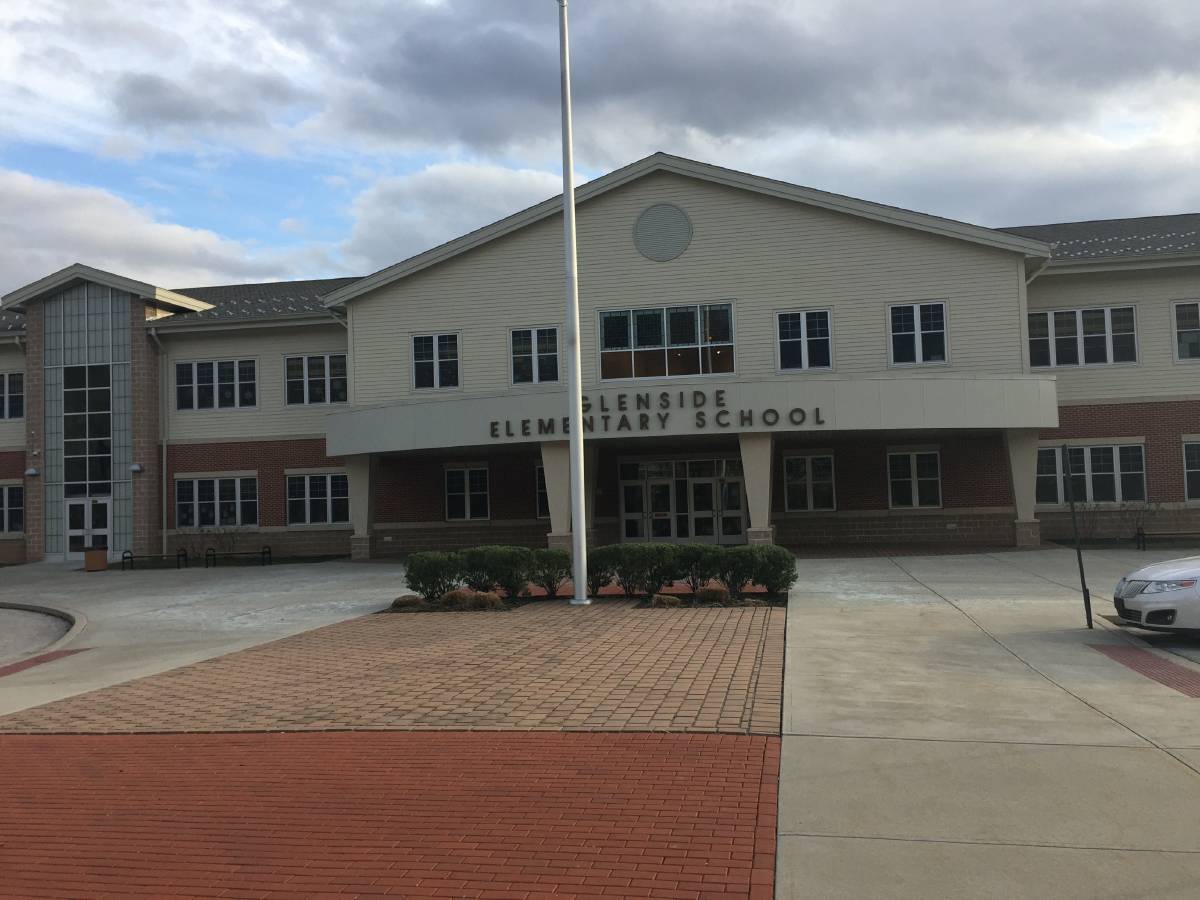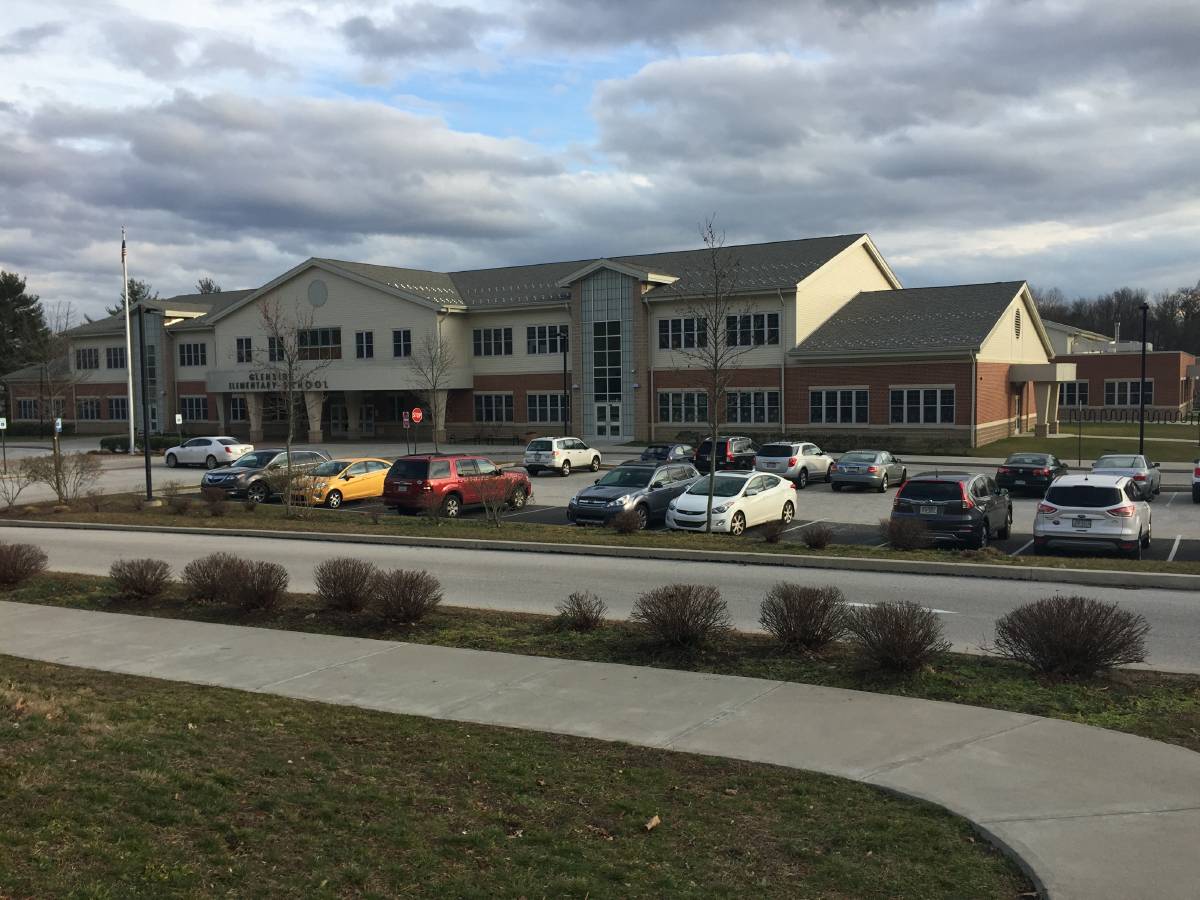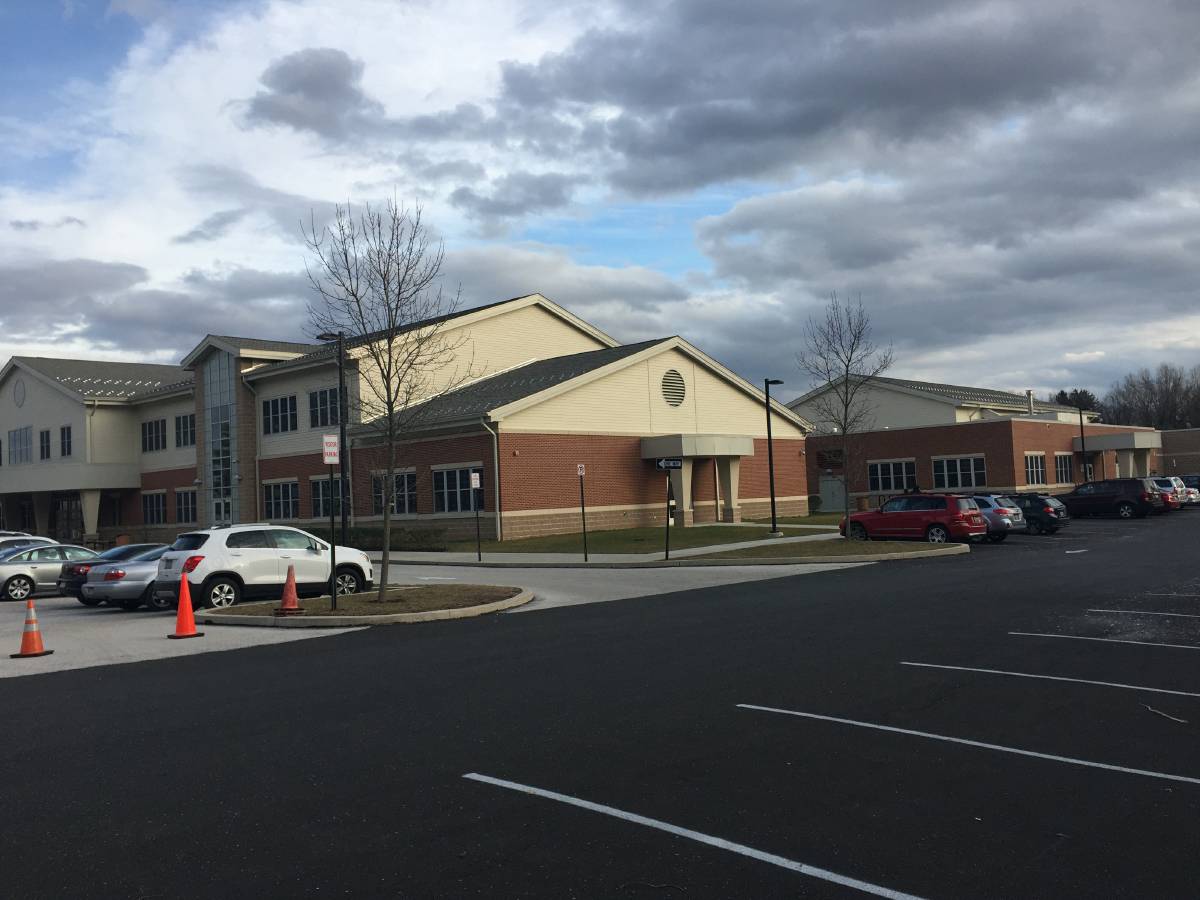 Photos of the new Glenside Elementary
See more Photos .....
More of Glenside Elementary Future CHS Class of 68 from Dave Kelley
Glenside Elementary Future CHS Class of 68 from Carolyn Miller Antilla
Glenside Elementary Future CHS Class of 68 from James Shuster
Glenside Elementary Future CHS class of 67
Glenside Elementary Future CHS class of 66
Some misc. Glenside Elementary School years pictures
Return to the CHS-68.org homepage